20/20 Vision Newsletter
April Edition
Vision 2020 National User Group Teleconference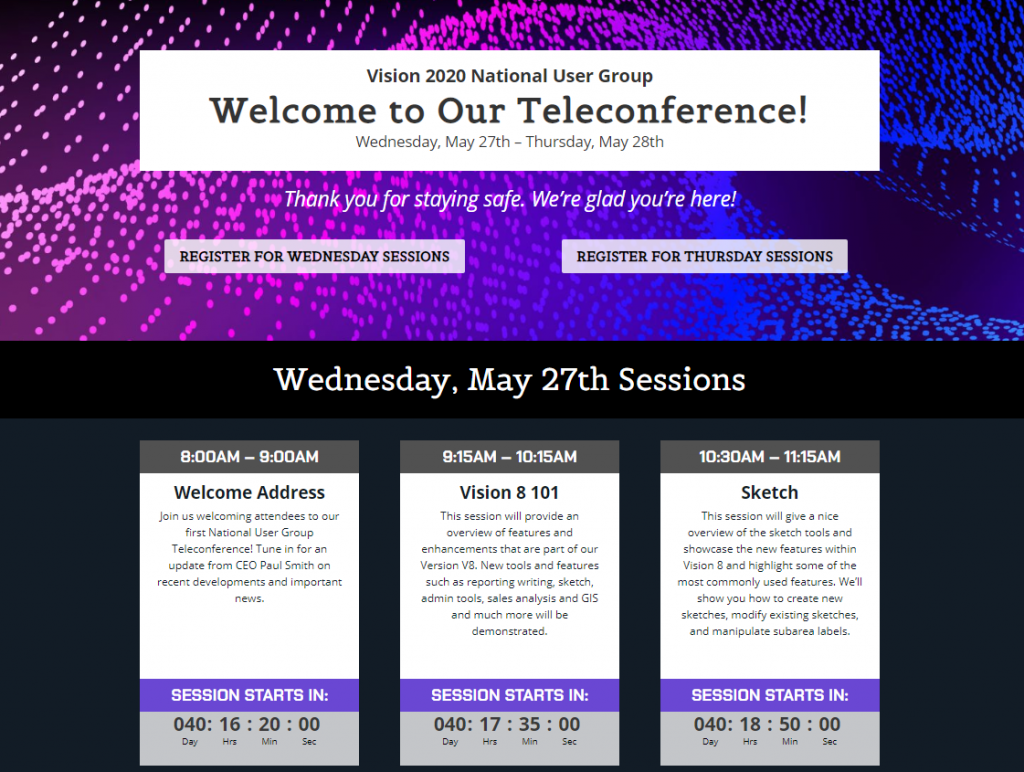 Registration is Now Live!
May 27th – May 28th
To protect the safety of our clients and staff during the COVID-19 pandemic we have transitioned the 2020 National User Group to an online teleconference format.
Introducing the Vision Web Series

Join our new web series that explores new and emerging digital technology and what it means for the future of assessing:
Enhancing Your Productivity Using Desktop Review
April 23 @ 1:30pm EDT
Leveraging GIS to Maximize the Accuracy of Valuations
April 29 @ 1:30pm EDT
Digital Tools and Best Practices To Set Your Team Up for Remote Working
May 5 @ 1:30pm EDT
Visualizing Your CAMA Data with Intuitive Analysis Tools
May 21 @ 1:30pm EDT
Roundtable Discussion of COVID-19 on Real Estate Values
More information coming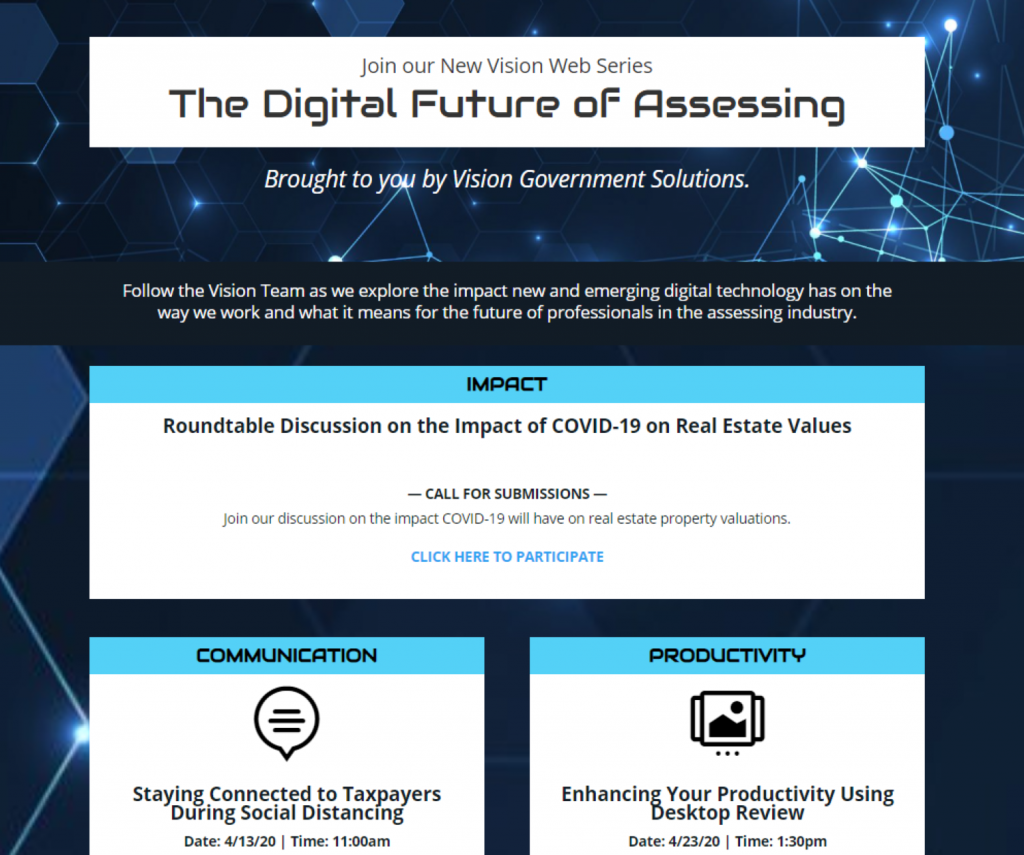 Staying Connected to Taxpayers During Social Distancing

How are you staying connected to taxpayers in a socially distant world? See what fellow Vision communities are doing along with Vision best practices.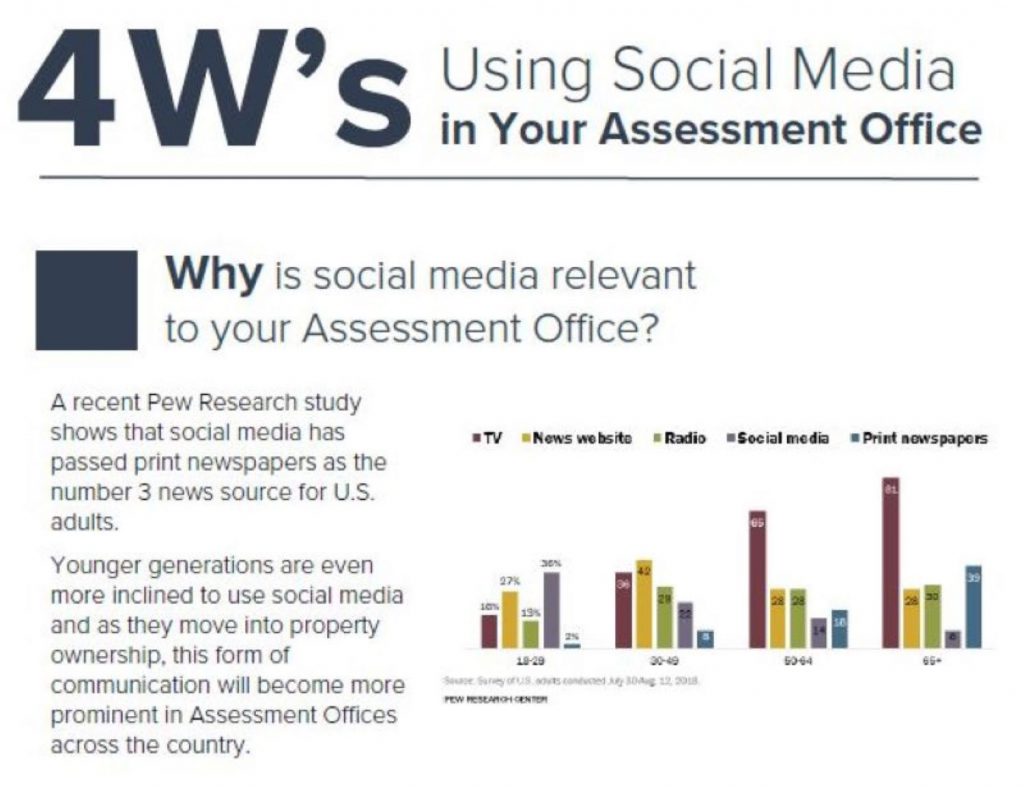 Using Social Media in Your Assessment Office

Social media is a great way to stay connected to taxpayers during social distancing. But are you struggling to get started? View our guide for a launching point!
"Do you find yourself needing to send parcel photos via email, but with no hope of locating the original photo file?
Not a problem!
You can use the export button on the Photos Screen to quickly and easily save the photos in Vision to your desktop for emailing, printing, etc."
– Matt Burke, Training & Support Specialist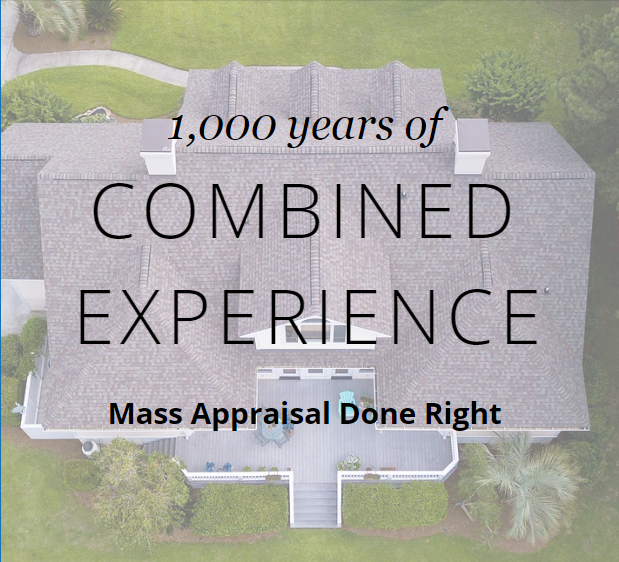 Recent Appraisal Wins
Andover, CT (Reval)
Chelmsford, MA (Update)
Foster, RI (Reval)
Manchester, CT (Reval)
Medford, MA (Update)
Middletown, RI (Update)
Plaistow, NH (Reval)
West Hartford, CT (Partial Reval)
Wilmington, MA (Update)